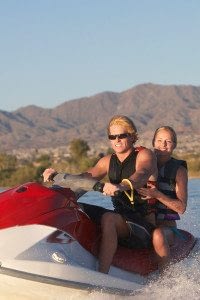 Personal watercraft, such as jet skis and wave runners, are often our customer's first step into the boating world. Personal watercraft are extremely invigorating and fun for water lovers of all ages; however, they are not toys.
If you have several personal watercraft, you may qualify for a multi-boat discount on your insurance. Additional coverage can also be purchased for trailers and other accessories.
Whether you are a first time boater or experienced captain, it is important that you have proper coverage for these vessels. At Eastside Agency, Inc., we have policies that are geared specifically for your personal watercraft.
We offer free quotes on personal watercraft insurance and always try to get you the best price possible with all applicable discounts.
Want to see how much we can save you? Just request a quote to find out.